Is your child between 0 and 5 years old?
Do you have concerns about their development? 
Do people around you seem to misunderstand your child when he or she speaks? 
Have you noticed that your child often stumbles?




The Agir tôt program is for children aged 0 to 5 and their families. It aims to identify indicators of developmental difficulties in children so that they can be directed to the right services quickly. 
The objective of the program is to support developing children's full potential and facilitating their start in kindergarten.
The Integrated University Health and Social Services Centres (CIUSSS) of the Capitale-Nationale territory is currently developing several projects to integrate new services and offer them quickly. This work is carried out in partnership with the CHU de Québec in order to facilitate the pathway for children and their families. The entire program will gradually be implemented in all Quebec institutions during 2022. 
 
Child development 
Like a flower that blooms, children develop at their own pace. Their development generally follows predictable stages. Their experiences, their environment, and sometimes the support of a caregiver could also help them develop their full potential.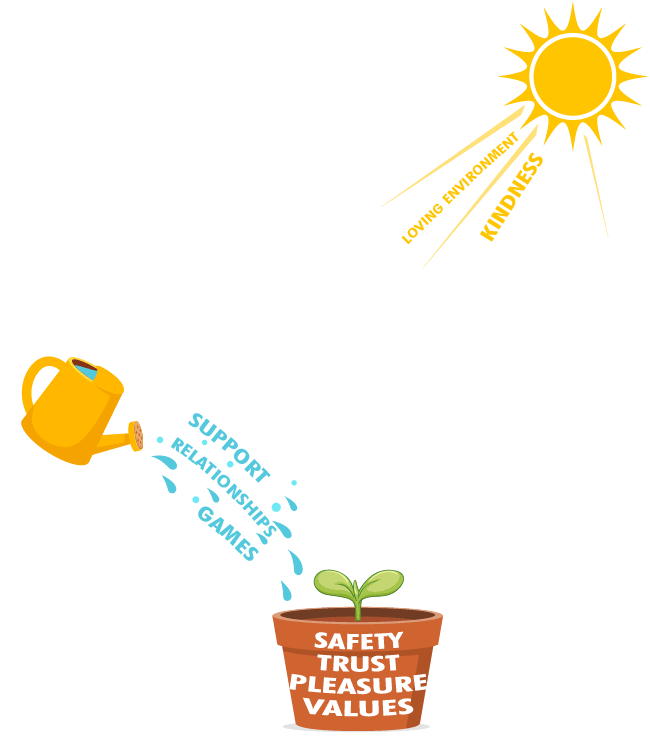 Early childhood is a period rich in learning that involves many areas of development. That's why the Agir Tôt program focuses on each element of this pattern:
It takes some practice to learn how to walk, to make sentences, to play with others or to wait for your turn. Sometimes, some children need a helping hand to thrive. For example, a parent could benefit from guidance on the bedtime routine, or he/she could have access to workshops on strategies to better stimulate their child's play or language.   
The Agir tôt program addresses the various needs of children and their families through several types of services such as:
Workshops; 
Individual, parent-child dyad, or group interventions;
Simple tips.
These free services are available to parents who wish to participate. 
A designated worker (e.g., a coordinator) will determine possible services to be offered based on the concern of a parent, of a worker or of those within the child's network: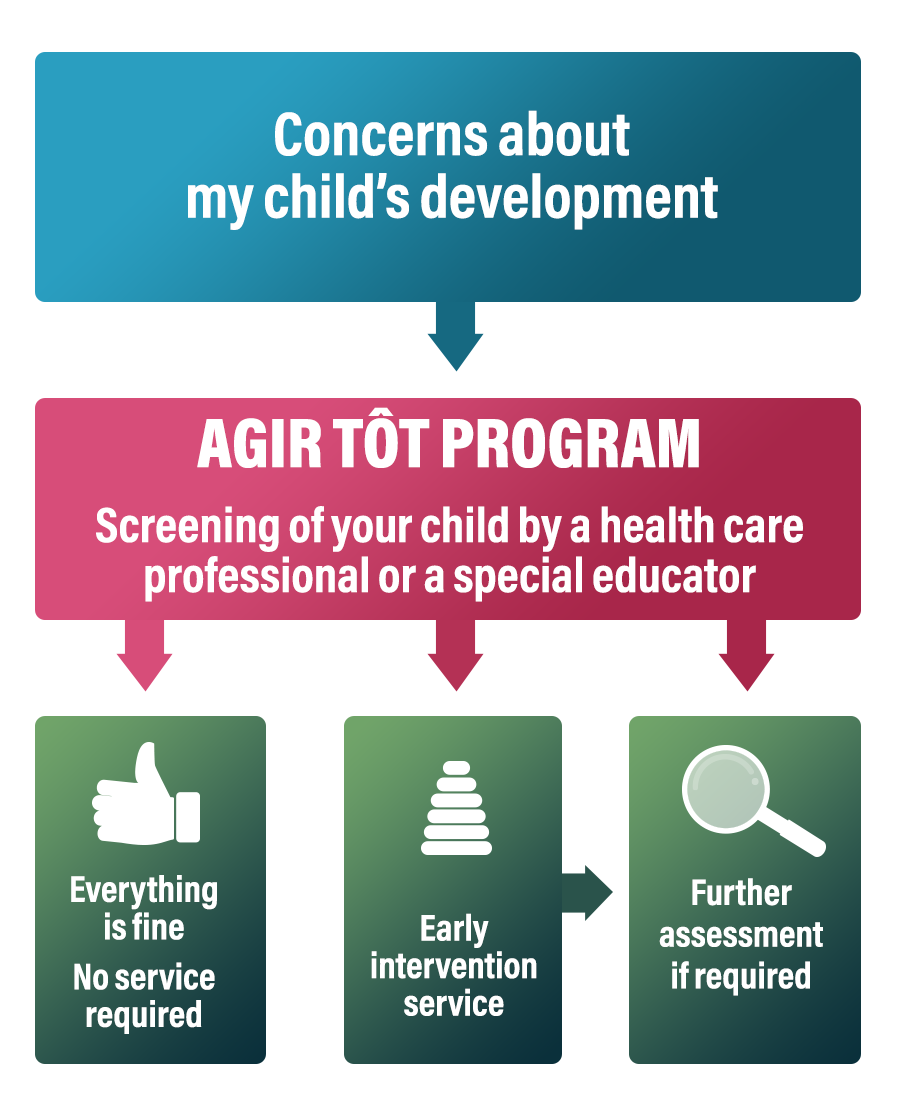 Here are some examples of the services offered :
Adults and professionals who are present in your child's life also play an important and complementary role. They also monitor your child's development on an ongoing basis to help quickly identify possible indicators of difficulty.
Concerns about the child's development may be raised by parents or through observations at different points in the child's development:
During vaccination;
During appointments with doctors;
At the daycare;
In Junior Kindergarten (4-year old children);
In the community setting, etc.
Immunization at the age of 18 months is a key time to spot warning signs in a child's development. These clues could be used to refer the child to the services of the Agir Tôt program.
For more information, consult the 18-month vaccination appointment-Agir tôt program
When indicators of difficulties or concerns are raised regarding your child's development, you can use the screening service. Like a camera, the screening service provides an overall picture of the child's development at a specific time to determine :
Your child's strength and weaknesses; 
The best early interventions to offer.
Examples of Screening Referrals to the Agir Tôt program:
A parent notices that his or her child does not talk very much and is clumsy; 
An educator in a child care center is concerned that the child is not playing with the other children;
A doctor is concerned about the development of 16-month-old twins who are not walking yet and experience eating difficulties.
Screening overview: 
An online screening platform has been developed to facilitate screening and exchanges with a CLSC (Local Community Health Centre) worker; 
The screening aims to collect summary information on the different spheres of the child's development and functioning through questionnaires selected according to the child's age; 
Screening helps make connections between different aspects of a child's development. For example, a child may have a tantrum when he/she is unable to make himself/herself understood to those around him/her because of language difficulties.
At the end of the screening, the practitioner will give you an overall profile of your child that will help you understand the child's strengths and weaknesses, and will identify the best services to provide.
The Agir tôt program gives access to a variety of services as early as possible in your child's life to meet your child's needs, as well as those of your family.
Interventions aim to:
Help you, as a parent, better assist your child through the stages of development and in your daily life;
Offer stimulation and intervention to help your child develop and function well at home, at daycare and at school;
Prepare the child for kindergarten and help him/her make the transition. 
Assist you through the processes and services offered.
The intervention team consists of specialists in various disciplines who will listen to your concerns and your family's reality. A service of interpreter is available if you need it. 
Special education;
Occupational therapy;
Nutrition;
Speech therapy;
Physiotherapy;
Psychoeducation;
Psychology or neuropsychology;
Nursing care;
Social service.  
The collaboration between these workers with families and friends is a key approach of the program. 
In accordance with the profile, the needs and the evolution of the children, these interventions can be offered in different location: in the community, in a CLSC, in a rehabilitation center or in a hospital.
Like a magnifying glass, this assessment allows taking a closer look at the child's development. Referral to this service provides a better understanding of the child's functioning and needs, but more importantly, it allows targeting the right tools and resources to share with the family.  
This type of assessment is relevant when it meets one or more of these goals: 
Obtain a more accurate picture of the child's needs; 
Determine if the child's challenges or characteristics may be part of a developmental disorder such as autism, language disorder, etc;  
Help parents and carers understand the child's condition in order to maintain their participation in services;
Determine the winning conditions for the child to learn and function better;
Establishing the expertise and resources needed to continue these services. 
The different teams of the Agir tôt program of the CIUSSS de la Capitale-Nationale offer services tailored to the specific needs of each child and family.